EIT InnoEnergy Entrepreneurship Journey
At UnternehmerTUM, Europe's leading center for innovation and start-ups at the Technical University of Munich, we have joined forces with EIT InnoEnergy. EIT InnoEnergy Master's programs are English-taught double-degree study programs offered in cooperation with European technical universities (For more information, visit EIT InnoEnergy website). Together, we've designed the "Innovation & Entrepreneurship Journey" - an immersive learning experience for students of the following EIT InnoEnergy Master's programs.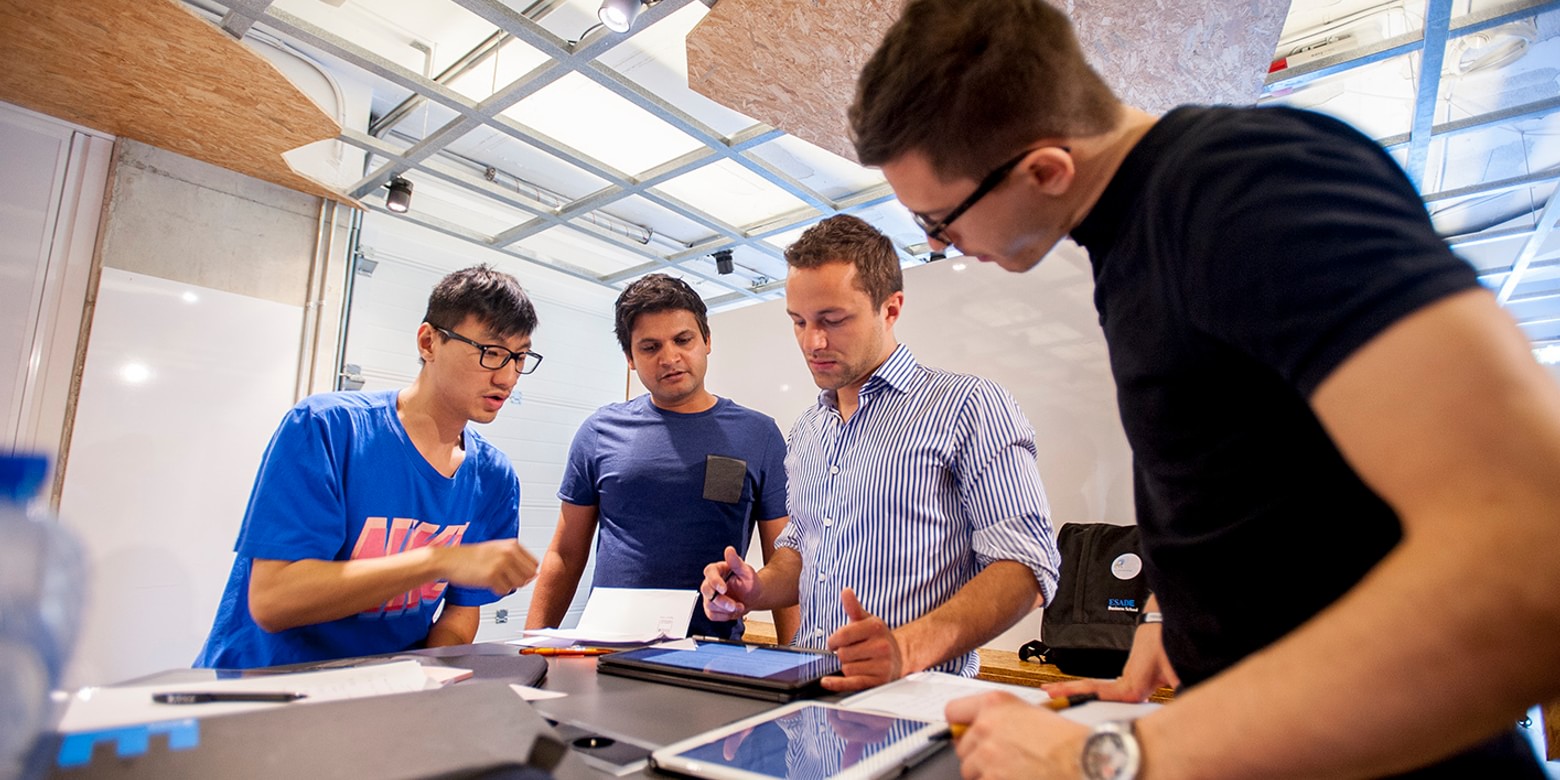 Target Groups: Students
Area of Focus: Business Design
Master's in Energy Technologies : Next Date July 9, 2023 - July 21, 2023
Master's in Energy for Smart Cities : Next Date July 31, 2023 - August 4, 2023
Duration: 1 year
Application Requirements : For Students of Master's in Energy for Smart Cities and Master's in Energy Technologies
Language: English
Scope: Two modules; 1st module 1 week in year 1; 2nd module 1-2 weeks in year 2 (+ remote coaching sessions)
Learning Goals: Guided by experienced Business Design coaches and experts, students will learn to systematically identify entrepreneurial opportunities, design and validate business models and test new products and services with Design Thinking and Lean Startup methodologies. Students will explore tools and avenues for reflection and self-growth throughout the journey.  They will use their skills, knowledge, and network to advance as founders of startups or intrapreneurs in leadership roles.
About
Master's in Energy for Smart Cities: This Master's program combines urban planning, energy management, in-depth engineering skills, leading-edge mobility solutions, and innovation management techniques. This English-taught program empowers students to play a critical role in shaping our rapidly urbanizing world by exploring how to create smarter, more sustainable, and resource-efficient communities.
Master's in Energy Technologies: This Master's program offers a comprehensive education in various critical energy engineering fields, ranging from renewable energy to decentralized power supply, and energy economics, all taught in English. Not only will you develop proficiency in the latest energy technologies, but you will also acquire an extensive knowledge of the significance of innovation and entrepreneurship in shaping the future of the industry.
In two modules, students first receive profound methodological knowledge in the field of agile working and design thinking. Then, they are guided through the business design process. The students will develop their own business ideas and benefit from the experience of our lecturers and many years of start-up expertise at UnternehmerTUM.
Module 1 – Entrepreneurial Mindset – 5 days Workshop off-site
Course description:
Over the course of five days, students will get first insights into Agile and Design Thinking methodologies. This module will focus on creating a learning environment where students get to know each other, their communities and experience hands-on learning. The experience will be highly practical. Students will work as Innovation Teams to engage with their classmates as well as the outside world to identify problems, communicate with potential customers/users, design first solutions, set-up testing and interaction cycles.  Culminating into an exciting showcase of the project pitches and learning reflection, this experience is designed to jump into entrepreneurship through experience and iteration. The module also focuses on understanding and developing an entrepreneurial mindset that will allow them to identify and act on entrepreneurial opportunities during and after the academic program.
Module 2 – The Innovator's Journey – 1 week Workshop in Munich, Germany + Follow-Up Coachings
Course description:
Over the course of one week, the students will immerse themselves in the Munich entrepreneurship ecosystem and benefit from interactive workshops on innovation topics and self-leadership concepts. Students will learn from experienced founders and successful innovators, design their own innovation journey going forward, learn about entrepreneurial leadership, strategy development & execution, as well as new venture financing.
The module is designed to actively involve corporate and startup partners in UnternehmerTUM's education programs, successful entrepreneurs and corporate executives as guest lecturers, and joint corporate innovation projects. Students are able to gain deep insights into the practical relevance of the methods and tools that are being introduced, and create personal bonds with major stakeholders in the innovation space. Access to the MakerSpace and its prototyping facilities will be provided, including a team building workshop in the high-tech MakerSpace. Following the workshop in Munich, each student will benefit from an individual 1:1 coaching session to integrate the learning and get customized support in their entrepreneurial project. By participating, the students will also get access to a unique and global Slack community of international innovators and entrepreneurs.
Partners