At UnternehmerTUM Academy for Innovators, we equip you with the skills, tools, and mindset needed to transform your vision into action.
Regardless of who you are: a young professional, a corporate executive, a scientist, or a student—if you're passionate about innovation, we'll accompany you on your journey.

Since 2002, UnternehmerTUM Academy for Innovators and our more than 15,000 alumni have shaped Germany's innovation and start-up landscape.

Our talents have built hundreds of high-impact ventures, transformed thousands of corporations, and impacted millions of lives.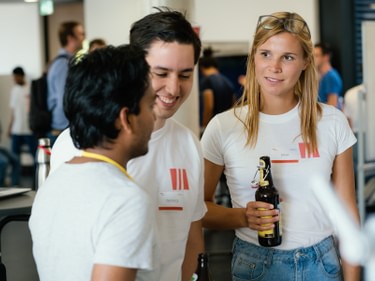 Dive Into the Start-Up Ecosystem
Experience firsthand what drives innovation, meet like-minded people and successful founders, and dive into your first projects.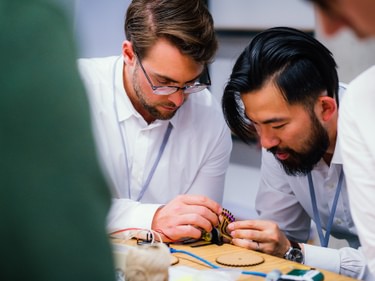 Roll Up Your Sleeves and Start Building
Form a team, identify problems, engage with users, run experiments, and start iterating and building on your business ideas.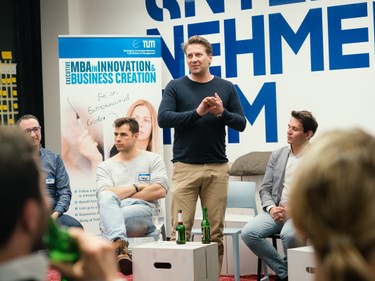 Inspire and Lead Others
Acquire coaching skills, learn to guide entrepreneurial teams, reflect on your experience, and grow as a coach.
The Academy for Innovators is part of UnternehmerTUM, Europe's leading center for innovation and business creation. With its strong ties to the Technical University of Munich, UnternehmerTUM is committed to driving technology beyond the status quo and empowering people through education to make a lasting difference. Per year, we bring about:
1
billion euros in venture capital
We are founders, innovators, trainers, and makers who empower you to create an impact.
Meet a dedicated group of educators with a shared passion: enabling people to grow their distinct skillsets and change the world on a large scale.
We value individual strengths and opinions, aim for action rather than acquiring knowledge, address societal challenges, and lead by example.
Meet Our Community
Thomas Kirchner
Co-founder ProGlove
"At UnternehmerTUM Academy for Innovators, we were able to test, iterate, and develop our product to production readiness. Also, UnternehmerTUM has a network that is unique in Germany and Europe."
Maria Sievert
Co-founder inveox
"It all started at the Manage and More scholarship program by Academy for Innovators. We laid the foundation for our start-up during our participation here. We recognized the deficits in cancer diagnoses in pathology labs and got to know each other."
Andreas Kunze
Co-founder KONUX
"Participating in UnternehmerTUM's programs is really worth it. Develop your product as fast as possible, go out, get feedback, go back and develop further."
Dr.-Ing Alexander Schlüter
Venture Manager E.ON Future Lab
"Having the opportunity to collaborate with UnternehmerTUM und their excellent scholars is one of the things we love at E.ON's Future Lab. You impressed us with your professional approach and exceptional motivation."
Jasmin-Chiara Bauer
Founder Change Journal
"The hands-on start-up and coaching courses at UnternehmerTUM Academy for Innovators empowered me to found the EVOLVE podcast and Change Journal."
Benefit from Our Tech Ecosystem
We boost the innovation capacity of leading companies and organizations.
We build entrepreneurial programs for universities. Together with our talents, we develop new business for our corporate partners. Moreover, foundations and government authorities put innovation initiatives into our hands.
Partner Selection