MakerSpace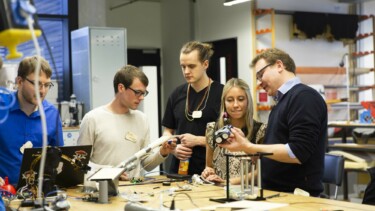 MakerSpace
MakerSpace is an openly accessible high-tech workshop. Bring your innovative projects to life with access to state-of-the-art machines, tools, and software. MakerSpace addresses explorers, makers, students, professionals, start-ups, and industrial companies. On 1,500 square meters, we offer our community what they need to bring ideas and innovations into being - whether by building prototypes or small-scale productions. You're also free to create new shapes and work with a full range of materials.
We provide different workspaces such as:

workshop for machines, metal, and wood
work area for textiles and electronics
3D printer
laser cutter
waterjet cutter
Our customers can use our professional service department to have building components, modules, and full projects be developed, produced, and tested. If you want to stay up to date, connect with other makers and bring innovations to life in an agile environment, join our trainings and events.
Audience: students, company customers, founders, start-ups, inventors, makers
Cost: From EUR 75 per month
Duration: From one day to up to one year
Start: Anytime
More information: www.maker-space.de