Business Plan Basic Seminar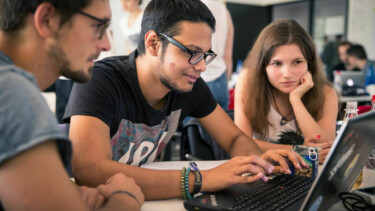 Business Plan Basic Seminar
Do you have an idea that you would like to turn into a business? Or would you like to explore your dream of becoming an entrepreneur one day? Then the Business Plan Basic Seminar is for you! Will you have to do this alone? No, you can choose a coach who will be with you every step of the way on this hands-on journey.

Develop your business idea in agile, iterative cycles with a lot of real-life feedback. This seminar is held completely online, so you're very flexible with every team meeting. Have your personal coach right beside you and get support from experienced lecturers.
Target group: Students, Ph.D. candidates
Language: English
Duration: 3 months, online
Workload: 7-10h per week

Times offered per year: Every semester, starting at the end of October and the end of April
Next starting date: Online kickoff on October 20, 2021, 6-8 pm
Accreditation: Up to 3-4 ECTS, please check with your study advisor
Application: Closed for winter semester 2021
Important dates, online:
October 20, 6-8 pm, Kickoff,
November 3, 6-8 pm, Online Session 1,
December 1, 6-8 pm, Online Session 2,
January 12, 6-7 pm, Important: Exam Tips,
January 31 to February 3, final presentation, choose a 20 min time slot.

(version September 22, dates and Zoom links for info-event & team finding added, time correction team finding sessions)