appliedAI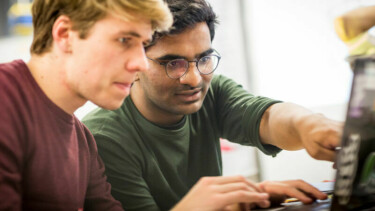 appliedAI is leading Germany into the age of artificial intelligence (AI)—together with leading partners in tech, industry, politics, and science.
We provide certified online courses or guide you, your unit, or your company through the AI Journey.


Online courses:

Elements of AI

From now on, the free online course "Elements of AI" of the Chambers of Industry and Commerce in Germany allows everyone to acquire and test knowledge about artificial intelligence (AI) online. So far, 650 000 people enrolled (numbers growing). Our initiative appliedAI has supported the transfer of the content of Elements of AI into German and is responsible for the ongoing operation.
Visit the offer at www.elementsofai.de.

Foundations of AI
Foundations of AI is a free course about Artificial Intelligence. It is a self-paced entry-level program that is designed for individuals in companies. We aim to foster the adoption of AI in business by helping employees take their first step toward acquiring a basic understanding of its potential. The course is jargon-free, interactive, and hands-on.
Visit the offer at www.foundationsofai.com

Einführung in die KI
Within the framework of the appliedAI initiative, the learning offer "Einführung in die KI" by UnternehmerTUM GmbH aims to familiarize a broad target group with the essential technical aspects and functionalities of AI. Using videos, texts and practical exercises, a general understanding of AI is created through which the participants* learn to assess and meaningfully apply AI in their private and professional lives.
Visit the offer at ki-campus.org/courses/einfuehrungki2020
KI-Manager (IHK)

Artificial intelligence is a transformative technology that is challenging the foundations of many business models. This results in a wide variety of challenges for organizations and their employees, which must be met competently. The new IHK certificate course "AI Manager - Artificial Intelligence (AI) in Application" provides the know-how for this.

The certificate course is aimed at specialists and managers and offers pragmatic, non-technical approaches to the application of AI.

Visit the offer at https://www.appliedai.de/de/ki...
The AI Journey
Applying artificial intelligence is a journey—you, your unit, or your company start somewhere and mature over time. Become part of the appliedAI ecosystem and master the progress together with Germany's leaders in AI!
Speaking of the journey reflects how we think about the adoption of AI. Based on the expertise of more than 30 large German and international corporations, we've collected more than 120 challenges that companies typically face along when striving for AI maturity. That's what we jointly work on as the appliedAI Initiative.
See the full journey at www.appliedai.de/journey.
Audience: Companies, start-ups, public institutions, researchers
Duration: Individual
Start: Anytime
More information: www.appliedai.de